Limited Quantity: 7

Condition: brand new

Blusmart 80 Kpa Vacuum Sealer Machine save your food and time. It can effectively maintain the original color, fragrance, taste, shape for a long time. Keep Food Fresh, extending food preservation time up to 8 times longer than ordinary methods (basically depending on the type of food) to save you time and money.

【Fully Automatic Design】 This food sealer machine adopt fully automatic Auto-lock latch designed with the control center placed on the top panel and soft touch digital buttons along with led indicator lights. No need to press the Lid by yourself, the device will open automatically after seals the vacuum bag. A smart device at your family's service!

【Convenient & Unique Design】 The food sealer designed with a cutter, enabling you to adjust it to suit various-sized rolls and cut the vacuum sealer bags in desired size to prevent bag-wasting. In addition, this vacuum sealer machine with digital Kitchen scale is for better cooking, baking, tracking intake. A removable Drip Tray is able to catch any overflow liquid that convenient for you to clean and maintain after using.

【Four Sealing Modes 】The vacuum sealer machine features 4 useful modes: Dry/Wet, Normal Vacuum, Soft Vacuum, Seal Only. This vacuum sealing system for food preservation can provide the most appropriate preservation methods according to different kind of food types, texture and cooking requirements. Press STOP to further control the vacuum pressure needed. Press VACUUM MARINATE BUTTON when connects to other vacuum accessories to vacuum such as food storage container, jams, wine stoppers and so on.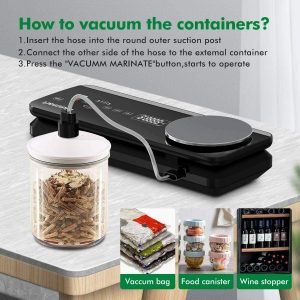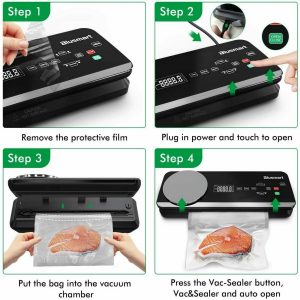 Specifications:
Rated voltage: 110-120 V
Rated Frequency: 50-60 Hz
Vacuum Power: 80 Kpa
Rated Power: 120 W
Vacuum Display: green/dry, red/wet
Sealing time: 8-12 Seconds
VAC / Sealing Time: 10-12 Seconds
Increments: 1 g
Weight: 2.38 kg
Capacity: 2 kg
Dimensions: 380 mm*140 mm*80 mm
Package included:
1 x Vacuum sealing machine
10 x 20*30 cm bag
1 x 20*200 cm vacuum roll
1 x Roll Vacuum hose
1 x Manual
1 x Warranty card
The same product can be found in Walmart:

https://www.walmart.com/ip/Blusmart-80kpa-120W-Automatic-LCD-Food-Vacuum-Sealer-Digital-Scale-Dry-Moist-Stainless-Steel/971087364